The Way You Love Me # ARC Review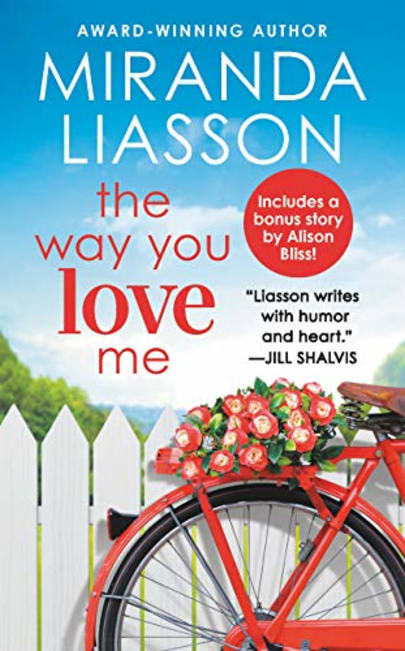 From an author whose books are filled with "humor and heart" (Jill Shalvis): Finally doing something for herself, lawyer Gabby decides to pursue her secret dream of becoming a novelist by signing up for a writing course. But with sexy professor Caden at the front of the classroom, things might get a little complicated…
Publisher Description
From the award-winning author who writes with "humor and heart" (Jill Shalvis, New York Times bestselling author), comes a charming small town where hope, friendship, and family leads an unlikely couple to their happily ever after.
Gabby Langdon has always tried to make people happy. She even went to law school to please her father, and now she's a highly successful-albeit bored-attorney. But Gabby secretly dreams of being a writer, so for once she does something for herself-she signs up for a writing class taught by best-selling novelist Caden Marshall. There's only one problem: her brooding, sexy professor is a distraction she can't afford if she's finally going to get the life she truly wants.
Recently divorced and suffering from the world's worst case of writer's block, Caden is in Angel Falls to get his life back on track. He's focused on teaching and providing a stable and loving home for his young daughter, Ava. The last thing he needs is to jeopardize his new job, which means keeping plenty of distance between himself and his talented new student-no matter how tempted he is by Gabby's beauty, kind heart, or the sparks that fly whenever they're together.
Includes the bonus story "Meant to Be" by Alison Bliss!
Review
Another beautiful love story of Miranda Liasson. I had the pleasure of getting to know the work of this writer last year and I became a fan of her soft, humorous and love-filled writing.
In this book, I met the story of Gabby, Sara's younger sister, who was always a cheerful spirit capable of enlightening places and conquering everyone around her, but she always carried the desire to write a book, a wish that was saved
while she invested her career as a lawyer to please her father. Now that she has become a partner in the firm where she works, she decided it was time to conquer her old dream.
She just did not count that her creative writing teacher would be the mysterious, demanding and cocky Cade. Cade has lived through some very bad experiences in his career and in his personal life and now he has to start from scratch to give to his daughter Ava a little more comfort and family. He just did not expect that when he applied for a teaching job he would meet a sweet girl who would change his life.
I loved the plot too much and the way Miranda built the relationship between them, she made me twist from the beginning for the couple and fall in love with Ava. I liked to see again the characters from the previous book and have already had a taste from the next one.
The cover was very well chosen and combines perfectly with the book.
Resenha
Mais uma linda história de amor de Miranda Liasson, tive o prazer de conhecer o trabalho desta escritora ano passado e me tornei fã de sua escrita leve, bem humorada e cheia de amor.
Neste livro, conheci a história de Gabby , irmã mais nova de Sara, que sempre foi um espírito alegre capaz de iluminar ambientes e conquistar todos a sua volta porem ela sempre carregou o deseo de escrever um livro, desejo esse que passou um tempo guardado a sete chaves enquanto ela investia sua carreira de advogada para agradar o pai. Agora que se tornou sócia da firma onde trabalha, decidiu que estava na hora de conquistar seu antigo sonho.
Ela só não contava que seu professor de escrita criativa, seria o misterioso, exigente e grosseiro Cade.
Cade viveu algumas experiências muito ruins em sua carreira e na sua vida pessoal e agora precisa começar do zero para dar mais conforto a sua filhinha Ava. Ele só não esperava que ao se candidatar a vaga de professor iria conhecer uma doce garota que transformaria sua vida.
Amei demais a trama e como Miranda construiu a relação entre eles, ela me fez torcer desde o início pelo casal e me apaixonar por Ava. Gostei de rever os personagens do livro anterior e de já ter tido um gostinho do próximo livro.
A capa foi muito bem escolhida e combina perfeitamente com o livro.